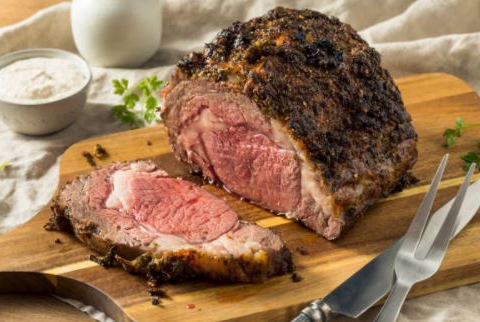 USDA Prime Grade, Standing Rib Roast, Boneless (1/2 of Rib, Netted)
Portion Size: 7-8# pound average per piece
Pack: 1, 7-8# pound average piece per case
Application: Oven roast. Cook with food safe netting on.
Attributes: With the holidays fast approaching, nothing rings the dinner bell like a boneless Prime Rib roast as the centerpiece of the table. Aged to perfection, finely marbled, incredibly tender with a robust juicy beef flavor that will keep one wanting more. We've used food safe/cooking net on each piece to ensure the Prime rib roast stays in a firm, tight position while cooking. Portion end-to-end to generously serve 5 – 7 people. Serve with classic sides like roasted vegetables, roasted garlic mashed potatoes, holiday music and great times! Cheers from the West Coast Prime team!
Temperature: FRESH/ UNCOOKED product upon pickup/delivery. If you do not plan on using your boneless Prime Rib Roast within 7 days, product must be frozen.
Will Call (Free Pickup in Brea CA)
Requires a minimum of $100. Order on weekdays by 3PM to pick up next day. Pick up days are Tuesday, Wednesday, Thursday, and Friday between 10:00 AM and 2:00 PM. Orders placed over the weekend will be available for pick-up Tuesday. Bring your order confirmation, park in the will-call spot, call 714-255-8560 to let us know you are here, and we will bring out your product for a curbside delivery.


Home Delivery – Orange County, Los Angeles and San Diego Counties deliver Wednesdays
Requires a minimum of $100. FREE Home Delivery on orders over $350. A $50 delivery cost will be added to orders less than $350. Orders placed by Tuesday at 3PM will be included on the Wednesday delivery route.