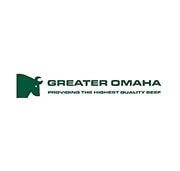 Quality is an all-encompassing attitude at Greater Omaha. From pasture to plate, since 1920, Greater Omaha has been known for the finest quality beef products, service, and delivery in the industry.
Omaha is located in the middle of the largest supply of Angus and Hereford cattle in the world. Place this abundant supply of the very finest beef cattle in the middle of the largest corn producing area in the U.S., and you have the most consistent supply of the best beef available anywhere in the world. It just doesn't get any better than our back yard.
Our central Midwest location—with convenient interstate access—allows us to service both east and west coasts with 3-day delivery and to ship all parts of the U.S. in both load and LTL quantities. Greater Omaha has become legendary throughout the industry for our quick-ship capabilities as well as our reliable and timely delivery service. Our sales office shares a campus with our production facility, allowing us instant flexibility to adjust production on the fly and allow our customers the capability of just-in-time ordering.
Greater Omaha is a single source supplier of the highest quality beef in the world. Our cattle buyers source Angus and Hereford cattle—which makes up 95% of our production—within a 250-mile radius of our Omaha production facility. One plant, one type of cattle, one predominant feed type, and one trim spec all combine to deliver one type of quality which is consistently, the very best.