Mary's Free Range Chickens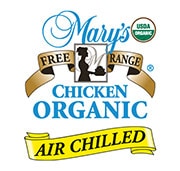 The life of a chicken destined for the dinner table is short and sweet these days. If that chicken happens to be one of Mary's Chickens, its life will be even sweeter.
Long before regulations and consumer preferences dictated how farms handle their poultry, the Pitman family, who owns Mary's Chickens, set their own high standards for responsible animal husbandry. Free-range has always been part of the program, third-generation family owner David Pitman says.
"We stay in tune to what our customers want. It's the right thing to do," he says. "Our chickens are free-range, antibiotic-free and fed a vegetarian diet. We do a lot on our farms in regard to humane treatment," he adds.
What Don Pittman started in 1954 continues today through son Rick and daughter-in-law, Mary, whose name graces the products, to his grandsons, David and Ben Pitman. The family produces a wide range of poultry besides chicken, such as ducks, geese and turkeys, including heritage turkey breeds.
The family treats its poultry with care not only as they grow but also during processing. "Our plant has a special system that puts the animal to sleep," David Pitman explains. In addition, once processed, all the birds are air-chilled. To savvy chefs, that makes a big difference, rendering skin that crisps evenly when the birds cook.
Another benefit of air-chilling, Pitman says, is "it conserves water. We save 70,000 gallons per day." For a farm located in drought-prone California, such details matter.
Demand for Mary's Chickens has grown to the point that the company also works with other local farms to grow their birds, Pitman states, asserting, "they work with us to our standards."
American consumers traditionally have demanded white chicken meat on the table, but Pitman says that trend is changing. "Before, sales were breast, breast, breast. We're seeing dark meat sales increase," especially chicken thighs, he says. "Duck consumption has also gone up. We launched our organic duck in 2015. It's more popular on the retail side," he claims.
For those who would like to experience the rich flavors of a heritage breed turkey for the holidays, check out the Mary's Turkeys website at www.marysturkeys.com. The family provides a video tutorial on how to cook the big bird, along with recipes for side dishes.
Photos Courtesy of Pitman Family Farms