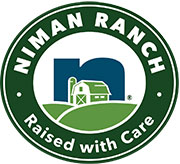 Niman Ranch started in the early 1970s on a family-owned cattle ranch in Bolinas, CA, a small coastal town just north of San Francisco. Back then, Niman Ranch cattle were Raised with Care® using traditional, humane methods with wholesome, all-natural feeds – the same way we raise them today. The buzz about our great tasting beef spread quickly and, before long, our burgers and steaks became favorites in local grocery stores and popular San Francisco Bay area restaurants.
In 1995, Niman Ranch expanded to raising hogs with the help from farmer Paul Willis of Thornton, Iowa. At the time, Paul was busy revitalizing sustainable hog farming methods in the Midwest, moving away from the common industrial practices. His dedication to animal welfare and stewardship of the land closely matched Niman Ranch's stringent principles. A partnership was quickly formed, allowing Niman Ranch to proudly offer a variety of proteins.
Today, Niman Ranch's network includes more than 750 family farmers and ranchers throughout the country. Whether they're raising hogs, cattle or lamb, they all share the commitment to raising livestock under strict protocols and the belief that humane and sustainable methods produce the best possible flavor.