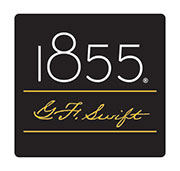 Beef lovers, take note: The date 1855 is cause for celebration. That is the year that Gustavus Swift entered the beef business. Swift, who helped pioneer the modern meat industry, took the first steps to make beef an affordable commodity.
1855 also designates a refined line of Black Angus beef and the top tier brand for American consumers produced by JBS, the largest meat supplier in the world. The Brazilian-based enterprise, created by José Batista Sobrinho, is the descendant of the company that Gustavus Swift started so many years ago.
"Product consistency and marbling are the drivers," marketing director John Punis explains. The 1855 brand represents only beef the USDA grades as upper two-thirds Choice or better and only cattle processed and trimmed at the Grand Island, Nebraska plant. "That is a big difference from most upper two-thirds Choice programs that pull cattle from several regions and process in more than 30 different facilities across the country," Punis noted. "This leads to greater variability in the brand and ultimately in the box than with 1855."
In sourcing 1855 cattle, program specifications maintain that no dairy or Brahman-influenced cattle are allowed. Instead, Angus cattle are fed a grain-based diet for 90 to 120 days in order to achieve the desired product marbling and superior eating experience.
JBS asserts that only 10 percent of the cattle raised by the company's circle of Northern Plains family ranchers meet the 1855 criteria, a USDA-certified program that strictly specifies the Angus breed, age (no less than 30 months), carcass weight, ribeye size and marbling. All 1855-branded animals are born, raised and processed in the United States.
Most beef eaters have their preferences when it comes to the traditional steaks and chops, such as ribeyes, strip steaks and tenderloins. But Punis suggests that home cooks look beyond those to many other flavorful cuts that come from the same high-quality line.
"Traditionally, buying beef is like going into a liquor store for a bottle of wine; it can be intimidating," Punis suggests. "We're slowly starting to educate people that there are more choices than ribeyes and tenderloins," he says.
One option is the coulotte, a cut taken from the cap muscle of the top sirloin that is popular with the Brazilian concept restaurants known as churrascarias. The culinary team at JBS pairs their coulotte steak with slow-roasted potatoes and pickled mustards seeds, a recipe they present here.
As with many trends, West Coast cooks were ahead of the curve on the coulotte's neighbor, the tri-tip steak, Punis says, maintaining that "East of California, the tri-tip is far less known." Other versatile cuts that are gaining popularity include sirloin flap, chuck flap and hanging tender, served as steaks or thin-sliced.
"Beef costs are so high right now, it's harder and harder for restaurants to feature beef," Punis posits, adding, "The way we keep beef relevant is to focus on the underutilized cuts. They give you options for appetizers and small plate items and offer the operator a point of difference on the menu."