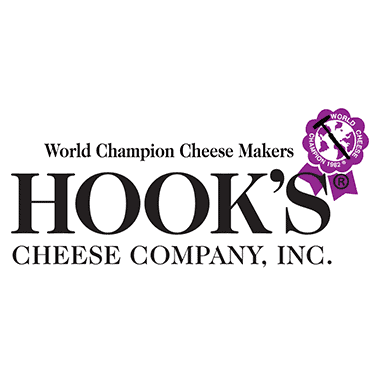 Tony and Julie Hook were college sweethearts and have been making world championship cheese together for over 45 years. Tony Hook began apprenticing at a small cheese factory in Barneveld, Wisconsin and got his cheesemakers license in 1972. Tony and Julie formed Hook's Cheese Company and began producing cheese in 1976.
In 1982 Hook's entry of Colby won the "Best of Class" award in the World Cheese Championship. The Colby was then judged against the winners of all the other classes and it was judged the "Finest Cheese in the World" out of 482 entries. There were entries from fourteen states and sixteen countries. Julie Hook was, and still is, the only woman to win the World Championship!
Hook's makes cheese in a facility that was built into the hills of Mineral Point, Wisconsin over 150 years ago during the areas mining era. Hook's ages its cheese in these seasoned curing caves at just the right temperature and humidity for a slow curing process that allows the cheeses to age to perfection. Every few months each batch is taste tested to ensure that only the cheeses of the highest quality are saved to age.
The robust curing and aging process is evident in our aged cheddars, such as the Two Year, Three Year, Four Year, Five Year, Six Year, Seven Year, and especially in our highly acclaimed Ten Year Sharp Cheddar, which won an ACS first place in 2006! The only Ten Year Cheddar to win this award!
In addition to the cheese making skills and curing caves, the Hook family only uses cow milk produced within 4 miles of the cheese plant. They have been purchasing cow milk from these same small family farms for over 40 years, a big part of the reasons why the Hook's are able to produce some of the best cow milk cheeses in the world year-after-year.